Details

Published on Saturday, 02 February 2013 15:25
Written by Webmaster
FreeDV is a GUI application for Windows and Linux (MacOS and BSD are in testing) that allows any SSB radio to be used for low bit rate digital voice.
Speech is compressed down to 1400 bit/s then modulated onto a 1100 Hz wide QPSK signal which is sent to the Mic input of a SSB radio. On receive, the signal is received by the SSB radio, then demodulated and decoded by FreeDV.

FreeDV was built by an international team of Radio Amateurs working together on coding, design, user interface and testing. FreeDV is open source software, released under the GNU Public License version 2.1. The FDMDV modem and Codec 2 Speech codec used in FreeDV are also open source.
Why FreeDV?
Amateur Radio is transitioning from analog to digital, much as it transitioned from AM to SSB in the 1950's and 1960's. How would you feel if one or two companies owned the patents for SSB, then forced you to use their technology, made it illegal to experiment with or even understand the technology, and insisted you stay locked to it for the next 100 years? That's exactly what was happening with digital voice. But now, hams are in control of their technology again!

FreeDV is unique as it uses 100% Open Source Software, including the audio codec. No secrets, nothing proprietary! FreeDV represents a path for 21st century Amateur Radio where Hams are free to experiment and innovate, rather than a future locked into a single manufacturers closed technology.
For more information and to download FreeDV software visit FreeDV Homepage
Details

Published on Saturday, 02 February 2013 15:17
Written by Webaster
Producer Steven Spielberg has used Amateur Radio or Morse code in three of his last four movies: Super 8 (2011), The Adventures of Tin Tin (2011) and Lincoln (2012). Members of the Morse Telegraph Club (MTC) — an association of retired railroad and commercial telegraphers, historians, radio amateurs and others with an interest in the history and traditions of telegraphy and the telegraph industry — played an integral part in the production of Lincoln.
According to International President of the Morse Telegraph Club James Wades, WB8SIW, several MTC members — including Tom Perera, W1TP; Derek Cohn, WB0TUA; Kevin Saville, N7JKD, and Roger Reinke — provided telegraph instruments to equip the 16 operating positions portrayed at the War Department set. Jim Wilson, K4BAV, and his son Matt had roles as extras. Wilson also worked with production staff and the actors to explain telegraph technology and the role of the telegrapher in the 1860s.
"Nine of the 16 telegraph positions depicted in the War Department were fully operational," Wades said. "These instruments could be operated in any combination through the use of a specialized computer program and custom built terminal units for the process. When necessary, a hand key could be inserted in the individual telegraph loops so messages could be improvised."
Wades, who was employed as a Technical Advisor for the production, worked with set designers over a period of months to develop the War Department telegraph scenes, coordinating the process of procuring the necessary instruments and serving as an historical consultant as the telegraph scenes were developed. He also worked the producers to develop historically appropriate message traffic that fit the sequence of the script; however, as the movie was edited, he explained that the final product evolved into a more generic facsimile of Morse traffic. "Those with a background in landline telegraphy will hear the occasional snippet of message traffic in the audio track of the movie," he said.
Source: ARRL
Details

Published on Monday, 28 January 2013 07:53
Written by Webmaster
The Global Amateur Radio Emergency Conference (GAREC) is the premier annual event attended by those with an interest in amateur radio providing emergency communications during training exercises or in response to disasters.  Since it was first held in 2005, the conference has taken place in all three IARU regions and is open to all emergency communications groups.

In 2013 GAREC returns to IARU Region 1 and will be held in Zurich, Switzerland between 25th to 28th June. The conference has been timed to precede Europe's largest amateur radio exhibition, HAM RADIO in Friedrichshafen so that people can enjoy both events. 

General information on GAREC 2013 including information on the venue, registration fees and the tentative agenda and the registration forms is now available on http://www.garec2013.ch/ . This website will be updated frequently to keep all updated with the latest news and program changes. For more information you may also email This email address is being protected from spambots. You need JavaScript enabled to view it.
Among the draft topics to be discussed are the relevance of Amateur Radio Emergency Communication in the '1st World', the HAMNET high speed data network along with presentations from the three regions of the IARU and also some presentations from groups with recent disaster relief communications operations.

The past presentations from the conferences including GAREC 2012, are now available at http://www.iaru.org/garec.html
Details

Published on Monday, 21 January 2013 13:28
Written by Webmaster
The ARRL Soapbox comments and many more sites highlighted that the IARU contest in July is great way to get into contesting. There are lots of people to work – in fact, the number of logs ticked up nicely this year – whether on Phone or CW or both. As you'll see in the ―Participation Stats section of the 2012 results, you're in good company if you operate ―barefoot with 100 watts or less. So plan on jumping in this July – and have fun!
Details

Published on Monday, 14 January 2013 02:00
Written by Rizkallah Azrak - OD5RI
The upcoming RAL General Assembly will take place in 2 weeks.
Date: Friday January 18th 2013 
Place: Universite Saint Joseph USJ, Human Sciences Campus, Bloc C, 2th floor, Room C217, Mathaf, Beirut
Time: 5:00 pm
Please be there on time.
Details

Published on Friday, 04 January 2013 09:49
Written by Webmaster
A RAL member, one of Lebanon's Amateur Radio pioneers and Ex. RAL President (1982), Dr. Rachid Idriss – OD5FI passed away on Friday December 28, 2012.
In this time of bereavement, and on behalf of the Radio Amateurs in Lebanon (RAL), we convey our heartfelt condolences and sympathy to his family, friends and to all those who admired him as they mourn his loss.  Rachid is survived by his beloved wife Janne and his Children Salim, Hazem and Suheila and Iffat. May his Soul rest in Peace. 
Salim can be reached at 03-638 637 or by This email address is being protected from spambots. You need JavaScript enabled to view it.
Details

Published on Thursday, 03 January 2013 14:42
Written by Rizkallah Azrak - OD5RI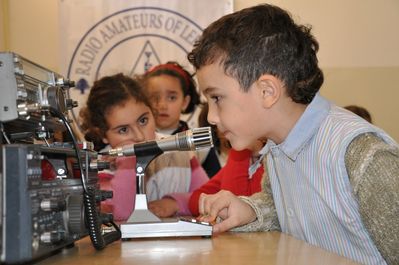 Kids' Day is an event designed to promote Amateur Radio to our youth. Share the excitement with your kids or grandkids, a Scout troop,  or the general public. 
Kids' Day is an on-air event to encourage young people (licensed or not) to have fun with Amateur Radio. It is designed to give on-the-air experience to youngsters and hopefully foster interest in getting a license of their own. It is also intended to give older hams a chance to share their station and love for Amateur Radio with their children.
If you've never operated on Kids' Day, you are missing something delightful. Open up your shack to a family member or invite the neighbor kids over - watch for the looks of surprise and delight as they make a contact or two. If you don't have a kid of your own, get on and be the station that creates those happy moments. You won't regret it!
Details

Published on Saturday, 22 December 2012 07:11
Written by Webmaster
Details

Published on Saturday, 22 December 2012 07:07
Written by Webmaster
Each year on 18 April, radio amateurs around the world celebrate World Amateur Radio Day.  On that day in 1925 the International Amateur Radio Union was founded.  In 1913 there occurred the first recorded instance of amateur radio being used to provide communications in a natural disaster, during severe flooding in the Midwest of the United States. Accordingly, the theme of the event for 2013 is "Amateur Radio: Entering Its Second Century of Disaster Communications."  Activities on the occasion of World Amateur Radio Day 2013 can be a great opportunity to spread the word about what the "hams" are doing in the field of disaster communications in the 21st Century.